Martinez and Gonzales Duo brings home the GOLD ... Again!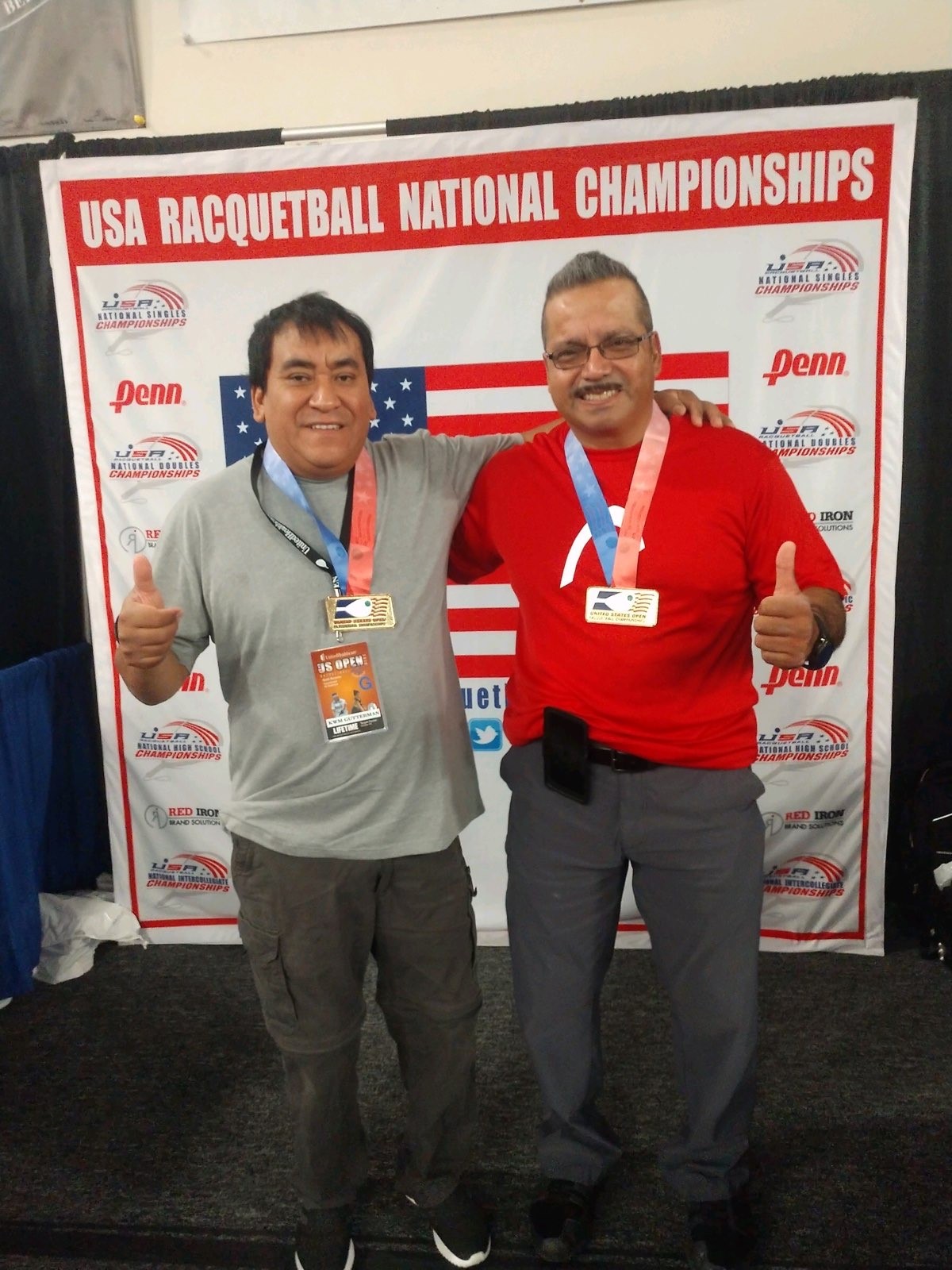 In the 24th Anniversary racquetball celebration, Franciscan Health Fitness Centers Members Martin Gonzalez and Jose Martinez took 1st Place in the (MCAD) Men's Doubles – Centurion +A Division of the US OPEN Racquetball Championship. This is the racquetball's premier "Grand Slam" and the largest racquetball tournament in the world, the UnitedHealthcare US Open Racquetball Championships. They played against all the top players in the world from the IRT (International Racquetball Tour) and LPRT (Ladies Pro Racquetball Tour) compete for the largest prize money purse in the sport. The pair played in the single elimination tournament held October 2nd through the 6th at the Target Center in Minneapolis, MN.
This year was amazing! The Duo won each bracket without losing a single game. They returned to the Region mentally and physically exhausted. All the top pros were there and including players from 12 different countries, 732 players in all. Martinez said, "Gonzalez and I played off each other. This year was more intense matches. They were completely exhausted after each game. You couldn't miss your shots, otherwise they would make them." Martinez said that it was incredible to be a two-time winner in this amazing tournament, some of the best players in the world come and they go home empty handed. He said he was truly blessed. "I prayed for this, I asked God to help me achieve this goal". I even shared that with my employees. I wanted to be a good example for them.
Jose Martinez has been a member of Franciscan Health Fitness Centers since 1990, and Martin Gonzalez was a member since 2004. Both have been playing racquetball three to four times a week and doubles for at least 12 of those years. "I've played a lot of doubles and mixed doubles and met a lot of good partners through Franciscan Health Fitness Centers", according to Martinez. We brought home the title two years ago in October of 2017 as well. They didn't make it to Nationals in 2018, one of the guys couldn't get off work. Gonzales and Martinez don't always partner. In 2016, Martinez won the Nationals with fellow Club member and partner, Drake Deavours.
The United Healthcare US Open is the biggest tournament in Racquetball. As two players at the US Open, Gonzalez and Martinez not only play for themselves but also to represent the Club. "We play racquetball all over and it's good to come home to Franciscan Health Fitness Centers. It's one of the best and cleanest clubs we've been in and we've been in a lot of clubs. We're proud to represent Franciscan Health Fitness Centers and call it our home club." Martinez stated. Martinez also mentioned that by using all aspects of the Club, he is more successful at racquetball. "I am fully invested – I cross train, use free weights and do cardio.
You just have to; your body needs strength and mental focus in order to do your best work in any sport."
According to Tom Bainbridge; Franciscan Health Fitness Centers Racquetball Tournament Coordinator, "Gonzales and Martinez have been doubles partners forever. They are like brothers. When you're that close, it's an added dimension on the court. They're in one another's head".
Franciscan Health Fitness Centers Schererville has eight racquetball courts and is host for several INRSA Tournaments and other local handball tournaments every year. The INRSA Players Cup Tournament is scheduled here for November 9th and registration can be done online at: R2Sports.com. For information more information or to take a tour of the facility, call 219-865-6969 or stop in at 221 US Hwy 41, Suite A, Schererville, IN.
Special thanks to Betty Durochik, Schereville's Program Specialist for writing this blog.
Click here to schedule a tour and speak with a Membership Coordinator