Challenges Help to Provide Accountability and Motivation
The New Year is the perfect opportunity to make a change in your life and help you to focus on your overall heath. Accountability and Motivation are the cornerstones to change and we are excited to partner with you to provide opportunities which feature both!
Challenge #1 – Weekly Post It Goals
If you are ready to take small steps in the right direction, we want you to be able to measure those efforts and goals. You may want to start with increasing your daily steps, drinking more water, or attend a virtual or live group exercise class twice this week. Make it attainable as small successes can help motivate you. Stop by our Post-It Note Boards to create your weekly goals. When your goal is accomplished, take it off the board and place it in the "I did it" bucket. Miss a goal that week? Aim for the same goal the next week.
Challenge #2 - MyZone MEPs (MyZone Effort Points)
Open your MyZone app to discover our Club challenges. There are 6 different levels, 1500 MEPs, 3000 MEPs, 4500 MEPs, 6000 MEPs, 7500 MEPs, or 9000 MEPs. Consider your exercise history, and then enroll in whichever challenge level will push you to do more for the month of January. If you are just starting out or resuming your exercise routine, reaching the 1500 MEPs level will give you a great sense of accomplishment and encourage your commitment to a routine that prioritizes movement. If you are an active MyZone user consistently getting 5000 MEPs monthly, signing up for the 6000 MEP Level will push you to make each workout a little longer or a little harder.
2020 has taught us that our best laid plans can quickly fall by the wayside. If you are ready to return to exercise but not ready to return to the building, don't lose your motivation! We have increased our number of virtual class offerings, as well as created an on-demand option for participating in Group Exercise Classes. Earn additional MEPs by putting on your belt at home and turning on a class led by your favorite instructor or maybe even try something new! Look for an email with Virtual Group Exercise Class registration info in your inbox every Thursday. (If you are not receiving our emails, please give your current email address to the Service Desk.)
These challenges will run for the month of January. The highest scorer for each level, at each Club, will win a prize at the end of the month.
Need a belt? See the Service Desk to purchase one at a discounted club rate and then register with your Facility Code to join the fun! Unfamiliar with MyZone?
When asked, "What sorts of technologies or devices do you encourage individuals to use to track their health and fitness? What would your answer be?" Jill Schneider, Manager, Fitness Centers Chesterton replied, "There are many other gadgets out there on the market that track heart rate and different aspects of your workout. Any device that helps increase your awareness and keeps you motivated to stick to a regular workout routine is good. Here at Franciscan Health Fitness Centers we feel that MyZone offers the best product on the market because the accuracy and science far surpass what other gadgets have to offer".
MyZone is an innovative wearable heart rate based system that uses wireless and cloud technology to accurately and conveniently monitor physical activity. MyZone devices deliver a fully connected solution for anyone who wants an accurate (equiv. to an EKG at 99.4%), gamified and motivating wearable experience. MyZone monitors heart rate, calories and duration of exercise that convert into MyZone Effort Points (MEPs), with a focus on rewarding effort rather than fitness.
MyZone provides a comprehensive look at your overall workout. Our Leader Board helps to create a challenge among members. We post the top five leaders from each facility in our monthly blog on the website.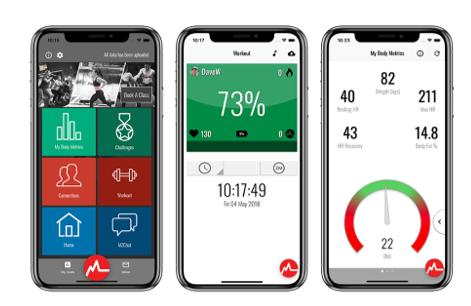 The MyZone app allows for engagement, motivation, and communities to flourish. With built-in challenges, personal goals, gamification, commenting and sharing workouts through social, users are motivated to sustain physical activity. The support from friends, our personal trainers and other Fitness Staff help hold members accountable and encourage them to be active.
According to Carrie Fleming, Manager, Fitness Centers Schererville, "Wearable devices such as MyZone really have the ability to transcend simply communicating results to the user. This technology now allows for Myzone users, as patients, to have an accurate way of reporting their health numbers in an interactive experience with their physician, through the app." Which, in turn, which may give their doctor an even truer picture of their everyday health.
Here are the average MEPS for each of our Fitness Centers:
Chesterton

3,283 Average Meps

Schererville

3,020 Average Meps
Chicago Heights 2,738 Average Meps